As we approach February and the days are gradually getting longer, many of us are starting to think forwards to summer holidays.  In these uncertain times, many people are sticking to the UK for their week (or two) away, and if you've got a dog, then what could be better than taking him with you?
These days there is thankfully lots of choice out there for dog-friendly holidays. Here are a few ideas to whet your appetite!
Camping in North Wales
Bwch yn Uchaf is a dog friendly Caravan and Camping Site, situated within Snowdonia National Park at the foot of the beautiful Aran and Arenig mountain range a mile from Llyn Tegid. Surrounded by stunning scenery with plenty of gorgeous walks, dogs are welcome (at £1 per night). You'll have toilet & shower facilities (hot water available 24/7), disabled facilities, washing machine and tumble-dryer on coin meters, washing-up sinks, hairdryers and a fridge/freezer (to cool those beers!). For a family of 4 plus 1 dog, you're looking at £25/night - not bad for a holiday under the stars!
For more dog-friendly camping, check coolcamping.com. 
Cornwall & The Eden Project
Rosemelling Barn Centrally located amidst the Luxulyan Valley World Heritage Site and with The Eden Project close by, you will be well placed to enjoy some of the best of Cornwall. The popular coastal towns of Fowey, Looe and Charlestown are just a short drive, and from here walkers can enjoy exploring via the picturesque South West Coast Path. Alternatively, the ruggedly beautiful North Coast is conveniently drive-able and includes the ever popular destinations of Port Isaac - famed in the TV show Doc Martin, Padstow, Polzeath - one of the countries surfing hot spots and the lovely village of Rock.
I have stayed in this area previously and can vouch for it being absolutely beautiful. What I love about this cottage is as well as being spacious inside, it has a gorgeous, enclosed garden so that you can sit out and relax with your dog after a lovely walk.  If you're quick, there's still availability for August for around £900/week (including your dog).
Norfolk Coast - truly dog-friendly cottages!
For the last 14 years East Ruston Cottages has been truly welcoming dogs to Norfolk to stay in their amazing range of lodges, cottages, barns and houses. Not just dog friendly but super dog welcoming... in a part of the country that is incredibly dog welcoming, with miles of sandy, dog friendly beaches, cafes and pubs that serve dogs as well as their humans. There is never any charge for dogs and the hosts are proud to add on all sorts of extras (you might even spot the odd Chow Bella treat jar!) to help you and all your dogs feel relaxed and loved here on holiday. And you can bring them all!
An example of some of the dog-friendly extras includes, for example, in White Cottage:
Throws for the sofas
2 raised Hi-K9 bed
Bowls, spare leads and plenty more things! (please bring your own dog towels)
48″ crate
Dog gates located at the bottom of stairs and doorway between kitchen and living areas.
FULLY enclosed garden with solid fence all round
Locally made dog biscuits and other dog friendly goodies in welcome pack
Warm outside shower for washing off sandy/muddy dogs
Poo bags and dog waste bin
These cottages are definitely on my wish list for when we get a new puppy!
Luxury Chic Hotel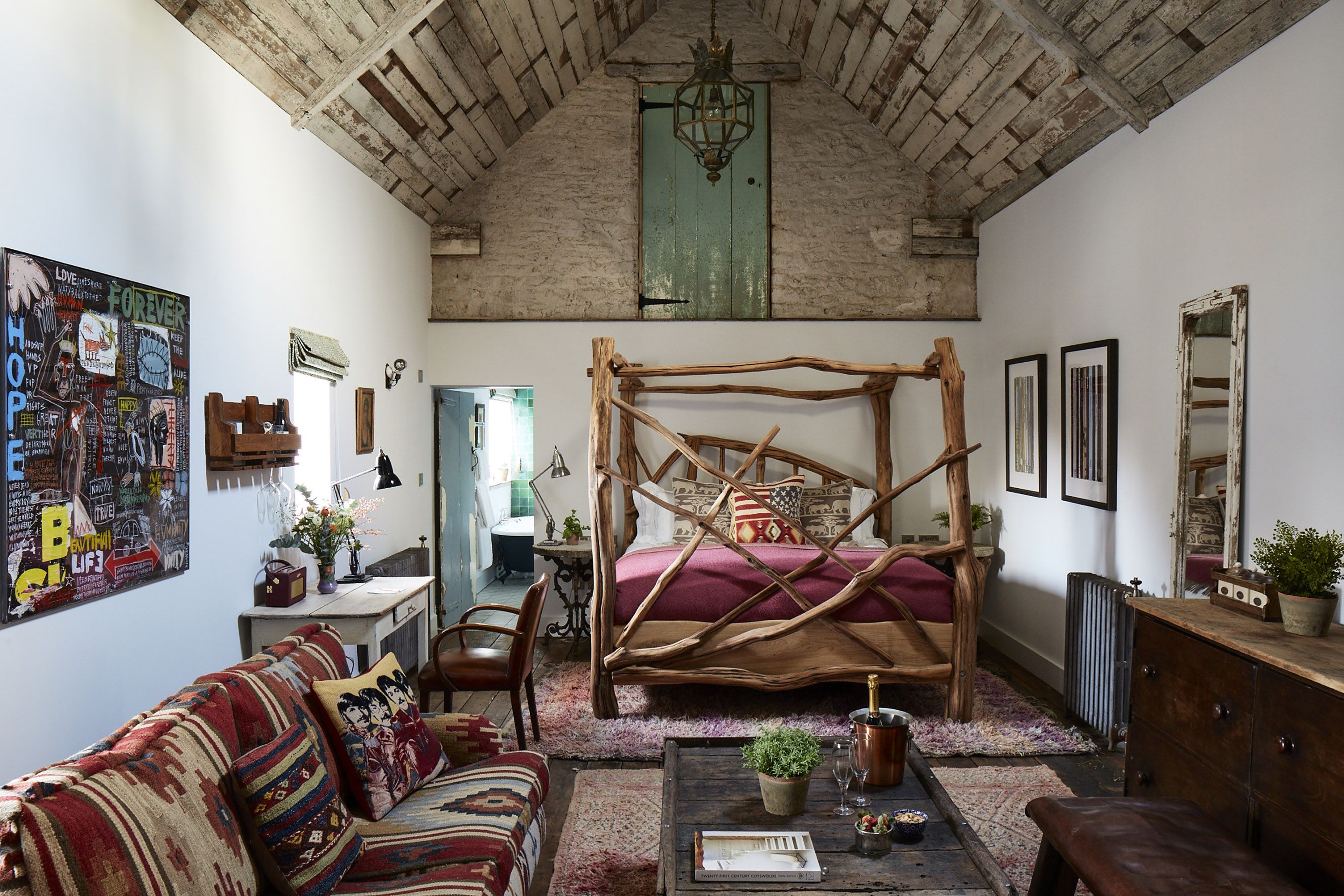 Artists Residence (hotels in Oxford, Brighton, Bristol, London and Cornwall).
If money is no object and you fancy something different, why not check out these hotels?  Fancy a city break in Bristol? Artists Residence Bristol is a dog-friendly boutique hotel tucked away from the hustle and bustle of the city on leafy Portland Square, and is a home from home in Bristol for both you and your four-legged friend. With a park in the square and some great green spaces nearby, there's plenty of space for walkies too.
They have a selection of dog-friendly rooms, and for every pooch that comes to stay they'll have a dog bed, Chow Bella bowls and some Lily's Kitchen organic treats ready and waiting for them.
There are loads of options for holidaying with your dog and it can be so much fun. I hope this has given you a few ideas. Do let me know if you have anywhere you can recommend!