Easter is hop-on us (see what I did there?!) and no doubt you will be stocking up on scrumptious chocolate goodies for yourself and your family. But everyone knows that chocolate is a huge no-no for your dog.
Why? Because chocolate contains theobromine which is poisonous to dogs. All types of chocolate are poisonous to dogs, but raw cocoa powder and darker chocolate are more dangerous because they have a higher concentration of theobromine. If you suspect your dog has eaten chocolate, you should take him to the vet urgently.
So what can you give your pooch for an Easter treat? Well thankfully there are lots of options out there, from shop-bought to home-made, so here's a roundup of our favourites!
Shop bought treats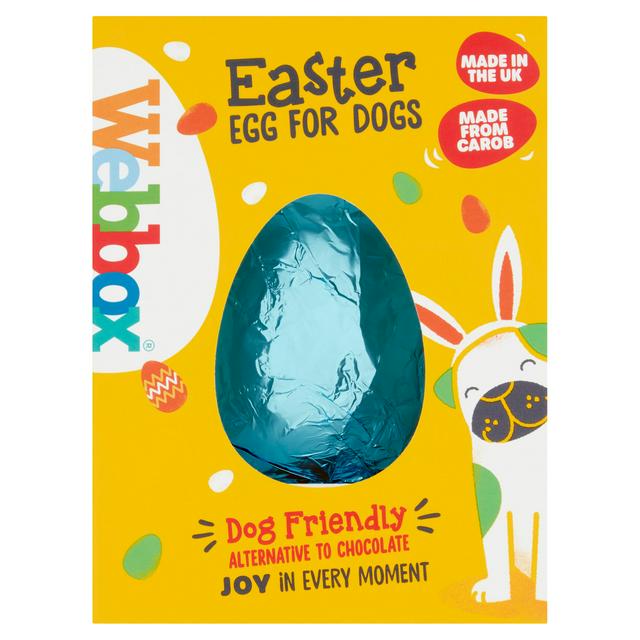 This carob-based Easter Egg is a bargain at just £3.00 (available here) and a sure way to help your dog feel included on Easter Day. 
Pets At Home have got these lovely carob based eggs so that you can set up your dog's very own Easter egg hunt! These are currently on offer at £3.75 and the pack contains 6 eggs - we also love that they're made in Lancashire!
If you're looking for something a bit more natural based (don't read on if you're squeamish!), how about these, erm, apparently tasty, furry rabbit ear treats? Available from Bravepaw. 
Homemade Easter Treats
There are some great recipes out there for home-made, dog friendly Easter treats. 
Happy Easter crunchies 
Ingredients:
110g peanut butter (xylitol-free)
90ml semi-skimmed milk
1 egg 
1 large carrot 
175g wholewheat flour 
1 tsp baking powder 
30g rolled oats
Method:

Preheat your oven to 180°C/ 160°C Fan/ gas 4
Add greaseproof paper to a large baking tray 
Into a bowl, add the peanut butter, milk, egg and carrot and mix
Stir in the wholewheat flour, baking powder and oats until the mixture forms a dough 
Put the dough onto a floured surface and knead the dough a little 
Once the dough is ready, it should be thick and heavy 
Flour a rolling pin and roll the dough out until it is about 1/4 inch thick 
Using the Easter themed biscuit cutters, or template, cut out the biscuits 
Add them to the baking tray and bake for 15 minutes until golden brown 
Leave them to cool on a wire cooling rack 
Dog Friendly Easter Eggs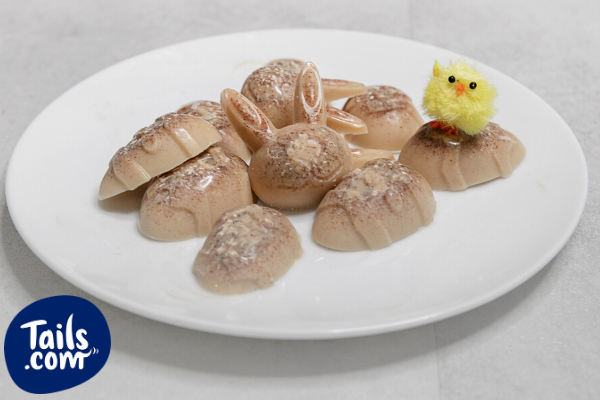 We love this recipe from Tails.com!
Ingredients
140g of xylitol-free peanut butter
140g of coconut oil
Optional extras for crunch: Good Dog Treats, apple chunks, carrot pieces
Equipment
Tip: you could also use a small ice cube tray
Ready, set, bake!
Add the xylitol-free peanut butter and coconut oil to a microwave-safe bowl
Then microwave for 45 seconds or until completely melted
Stir the mixture to get rid of any lumps, then pour it into the egg mould or ice cube tray until nearly full
Add any optional extras into the moulds now as a crunchy surprise for your pooch!
Put the moulds or trays in the fridge for 2 hours or until the eggs have hardened
When your eggs have solidified, take one out and give it to your dog as a treat or make them their own Easter egg hunt!
I hope that this has given you a few ideas for safe but tasty treats for your dog this Easter! 
Wishing you a very Happy Easter! 
🐰🐣💐❤